If you're looking for a way to improve your property's overall aesthetics as well as thermal performance, you may require a brand new conservatory roof. We often see that when our conservatories start to under-perform, we believe the whole structure has lost its ability to retain heat. This is a common misconception.
Often, the conservatory roof is the reason why your glass extension may not be as energy efficient as it once was. A lot of older conservatories still have the polycarbonate roofing system in use and hasn't been updated.
Here at Castle Conservatories, we provide brand new replacement conservatory roofs for customers throughout Surrey, South London, Sussex and the surrounding areas. We have been in the home improvements industry for over 25 years. We are highly skilled in providing customers with a new conservatory roof for their glazed extensions.
If you would like more information about our replacement roofs, get in contact today with our team.
---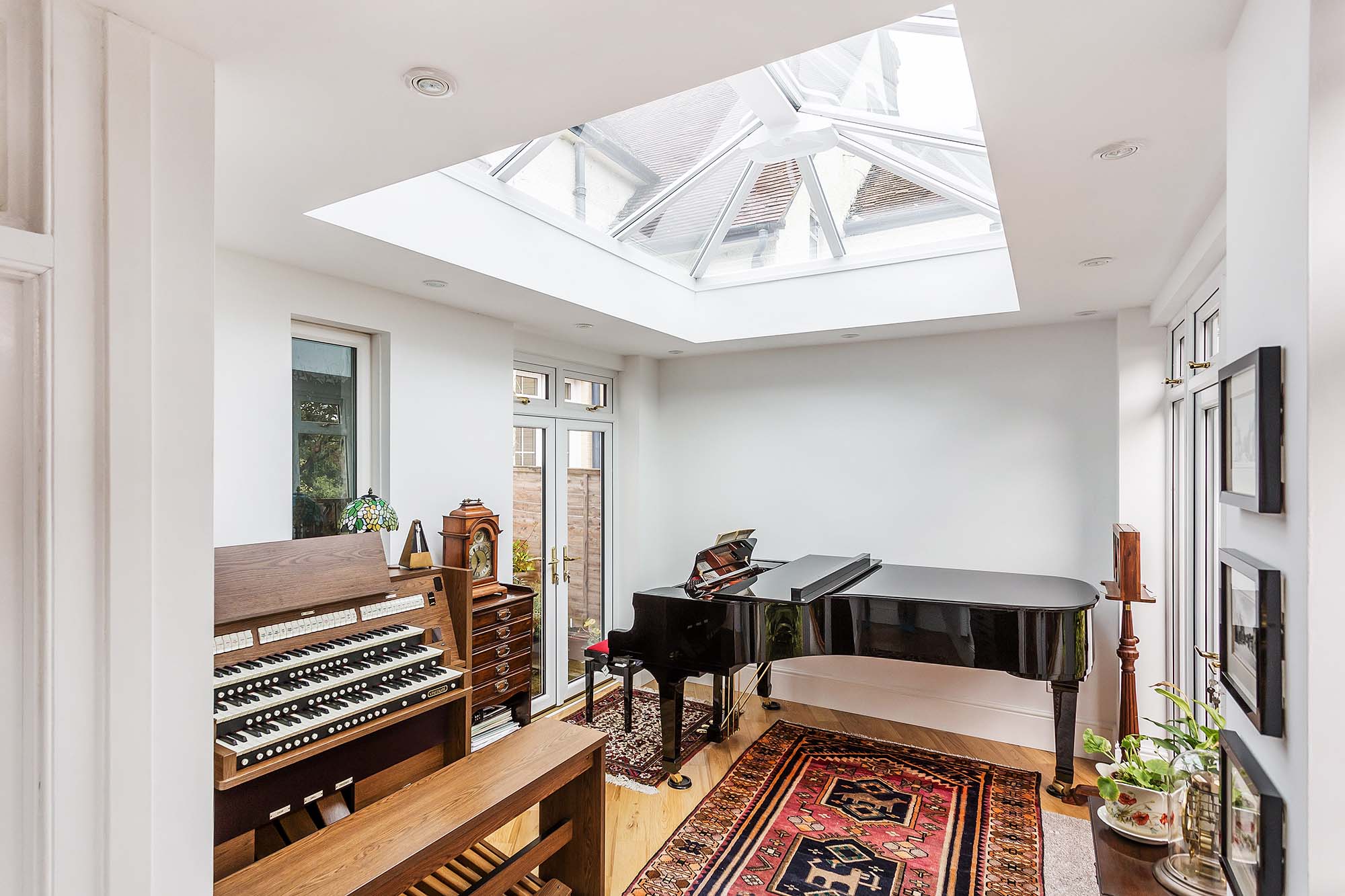 ---
The Benefits of a Replacement Conservatory Roof
Adding Market Value
If you're looking to sell your home soon, having a replacement conservatory roof fitted will greatly improve the market value of your property. This is because of the great benefits that come with a thermally efficient fitting. This is attractive to potential buyers and is something to think about when having home improvements done.
Thermal Performance
One of the most excellent benefits you will experience when replacing your conservatory roof is the improved thermal performance. As your heating will be trapped inside, you will find that your energy bills will significantly lower over time. That way you will be saving money and working hard to shrink your carbon footprint.
Multi-Purpose Room
As your new conservatory roof will provide you with better thermal performance, you will be left with a glass extension that can be used all year round. Gone are the days when your conservatory would be too cold to use in the winter and too hot to handle in the summer. You could benefit from a kitchen extension, a new playroom or even a study.
---

---
Conservatory Roofing Options
Here at Castle Conservatories, we have three different conservatory roofing options available for our loyal customer base. Each of these systems has its benefits. However, each will greatly improve your conservatory and make it function better for many years to come.
Tiled Conservatory Roof
This stylish option allows you to focus on the privacy of your glass extension. This beautiful installation is incredibly lightweight. This makes it easy to move around the building site and reduces our need to be on site too. Due to this, you will be saving money.
There are options to have glazed sections to allow natural light to flood in. This will illuminate your extension and give the illusion of extra space.
Better yet, our tiled option only applies a little amount of pressure to the existing frames and foundations of your conservatory. You will not have to worry about whether your roofing will apply too much weight because of its incredibly lightweight design.
For more information, get in touch with us today!
Solid Conservatory Roof
Although these may seem very similar to the tiled option, our solid roof system boasts its unique design. With this, you will be able to have glazing wherever you like in whatever shape. That way you can highlight aspects of your glass extension with beautiful natural light.
You can highlight a seating area or maybe a centrepiece on a coffee table. Whatever you would like for your solid conservatory roof, we can provide.
You can rest assured that you will be adding fantastic market value to your home. Get a quote today by using our online cost calculator.
Glass Conservatory Roof
If you're looking to optimise the amount of natural light that pours into your conservatory, why not opt for a glass conservatory roof? Giving the illusion of even more space, this installation is perfect for those who love the outdoors and want to feel more connected to their garden space.
Have peace of mind knowing that our glass conservatory roofs are durable. They can withstand the force of winds up to 130mph.
We will even give you the option to customise your conservatory roof by offering a wide variety of colours. Each of these shades come as either painted or a foiled aluminium. This means that these shades won't fade and crack over time. Harsh weather won't be able to damage the aesthetics of this style.
---

---
Conservatory Roof Prices
If you need a replacement conservatory roof, please get in touch via our online contact form. One of our helpful and friendly experts will get back to you as soon as possible.
If you would like to get a quote, use our online cost calculator. Here we will tailor a price to your specifications in a matter of minutes.
We look forward to hearing from you soon!
Categories: Conservatory Roofs
Tags: conservatory roof prices, conservatory roof replacement, conservatory roofs, Replacement conservatory roofs